I recently took a week off through Labor Day weekend to disconnect a bit. Before submitting my PTO request, I checked to see how much time off I had taken since I started working at my current job. Let's just say I was shocked to say the least. I hardly took any time off in the last three years!
Unlimited PTO
I should mention - this is no fault of anyone (including my employer) but my own. We're encouraged to take time off regularly but despite having "unlimited PTO", there's always something that makes it difficult to request for some reason. It's like I feel bad for asking to take time off for some reason. The only times that feel easy are when something important comes up like a doctor's appointment, for example. Sometimes I wonder if having limited time off that you can lose if you don't use makes more sense for me.
While I haven't done this yet, one thing I've been thinking about doing is forcing myself to think I have at least four weeks of PTO that I need to take off by end of the year. That way, I can take at least a week off every quarter to reset for the next. It's also helpful to think about the things or places you want to do and try to plan for and schedule them far in advance so you can request the time off with enough notice. Next year, I want to travel to Japan and South Korea or Italy.
Food, wine, and beaches
While a week was definitely not enough, I was happy that I was able to disconnect and explore different parts of California with my partner. We're both foodies and wine lovers, so we decided to just wing it and try to relax as much as possible on this trip. Here's a quick recap of our adventures and hope to share future trips on this blog because it's so important that we disconnect and slow down a bit. There's always more work to do and it will always be there waiting for us when we're back.
St. Helena
On the first part of our trip, we drove up north and stayed at Harvest Inn in Napa Valley. This was one of the nicest and most charming places that we've stayed at since the last time we stayed at Timber Cove Resort along the Sonoma coastline. The property was absolutely stunning. We had wine (lots of it!) and watched the sunset across a beautiful vineyard.
One of the nice perks of staying at Harvest Inn was that we were able to get complementary wine tastings at a few wineries nearby, which saved us some money!
The following day, we visited Health Spa Napa Valley and got a couples massage. We spent most of the day near the pool soaking in some sun and listening to water and birds chirp. It was much a much needed and very relaxing time before driving south along the coast to our next destination.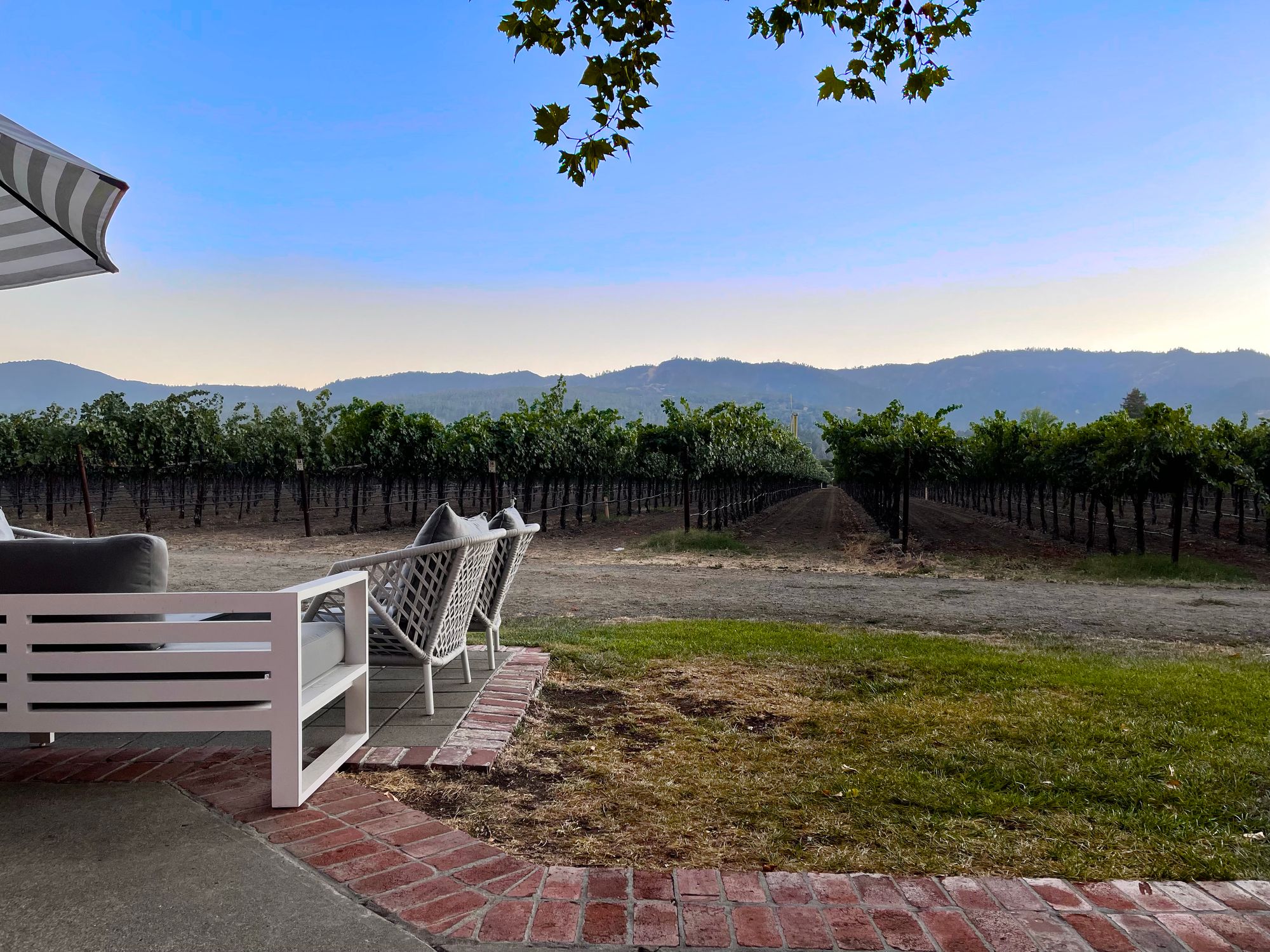 Carmel-by-the-Sea
We spent the rest of our trip down south, mostly in Carmel which we fell in love with from day one. We stayed at Tradewinds Carmel - a lovely boutique hotel steps away from the main downtown strip in Carmel. It had an awesome zen-like outdoor space full of plants and a fire pit that we sat by and had (you guessed it!) more wine.
Carmel was really special. The downtown area was very lively and we always enjoyed our walks. There are a ton of great little stores and restaurants there. We spent a couple nights by the beach, watching the lovely sunsets while a couple behind us played some music that took us back in time a bit. It was very liberating and peaceful. I think this was probably the highlight of the trip.
One of our final adventures that we did before leaving the area was the 17-Mile Drive. We stopped a long the majority of the route and it was a nice way to see something different. Highly recommend this it you have a couple hours to spare.
These photos don't do it justice. Just look at how beautiful the water looked!
Capitola
On our final stop, we drove for a short stay in Capitola. Mostly we wanted to walk a little and see the pier on Capitola Beach as well as the beautiful and colorful painted houses that were built right along the beach.
After having one more splash of wine along the beach, it was time to drive back up to San Francisco. I hope to share more of our adventures on this blog. I have found some joy in taking photos and capturing more moments like these. I hope you all had a wonderful, and safe, holiday weekend. Until next time.
The Importance of Disconnecting
My recent trip over Labor Day weekend and the importance of disconnecting from the day-to-day to recharge a bit.